Greece Was Fantastic, And I will Blog Soon... But FIRST...
Yesterday morning we picked up our baby puppy Molly. She was everything we'd hoped she'd grow to be... Beautiful, confident, playful. We watched her frolick happily with her brothers and sister before taking her away. As joyous as I was to have her, I still felt bad to take her away from her family.
Let's play
The hour and a half journey home by car was uneventful. Molly moved between my lap and the front seat floor and closed her eyes off and on. She only drifted to sleep just as we were coming in to town.
Our Baby
She settled into her new home very quietly and spent most of the afternoon sleeping. Alex had no idea we were bringing her home and when he walked in from school he didn't notice her straight away. When he did, there was absolutely no stopping the grin on that boy's face. It's made him one happy kid and for this I am happy.
Getting Sleepy
Last night Molly was quiet although she ate, drank and did her business so I was relieved to recognize that she wasn't too stressed out. We went to put her to bed in the kitchen but after five minutes of her crying my big, strong husband (who was adamant she would be sleeping in the kitchen) decided we should move her into our room. Alex asked if he could have her for the night but as she is still a wee puppy we told him it was best if she slept with us as he would have a very broken sleep.
Sleepy Girl
How right we were! Let me tell you - its almost like having a human baby! We placed her bed down on the floor at the foot of our bed and got her settled for the night. I was awake off and on all night listening for her and finall at 4:30 a.m. she woke us up to go out for a wee... I was so pleased about this (her not weeing inside) that I had no problem taking her out. Needless to say that she is basically trained and we've only had one accident in over 24 hours. Not too bad for a 10 week old pup. I finally got her settled after two trips outside and a bit of 'play'. You can't tell a baby dog that its 5:00 a.m. and time to sleep. However she did settle quickly and as Andy was up at 6:15 he happily took her downstairs with him when he got up. It was so sweet to see my strong man pick up this little pup and cuddle her on the way out of the room. We are definitely all in love.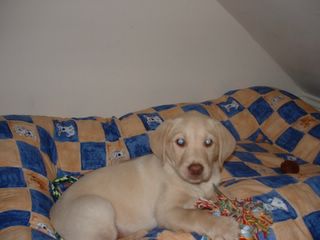 Molly's Bed
Today she has come on in leaps and bounds and is much more settled and relaxed. She's gotten her playful ways back and both Alex and I have been enraptured by her all afternoon and evening. She has just gone to sleep this minute. As I look at her I can't express how much love I feel for her already. It's hard for me to believe that she is actually ours and I will have her to love and take care of for the rest of her life. She is really and truly a big responsibility but I'm so glad to finally have her - I've been waiting my whole life for her. What with Andy, his children and now Molly, I feel that my life is full.
Welcome home Molly.