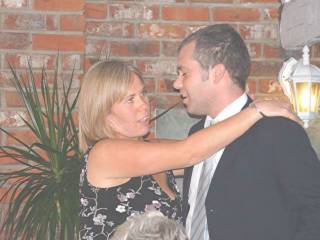 Pictures can speak volumes...or not!



The picture above was taken during an evening out with Andy's family. The man in the picture with me is not Andy, but his brother-in-law, Scott. When this picture was seen after that evening, I took a lot of ribbing. Mind you, I said I took a lot of ribbing. Scott hasn't even seen this picture, nevermind been teased about it! Why do you suppose that is girls?


While I admit that I find Scott to be a very attractive guy, and by attractive I don't mean just his looks because as we all know even the best looking men can be total assholes. This guy is just one of the most sincere and kind men I have ever met - it just doesn't hurt that he's easy on the eyes! Scott and Andy's sister have been together for a very long time (by which I mean more than ten years!) and make a lovely couple. They have a comfortable and affectionate way with each other that is so nice to witness. I love when they come to visit and I hate to say goodbye to both of them. Its so nice that Andy has siblings that I am growing to love.

The night that the above picture was taken was a very nice evening for Andy and I and Scott and I happened to have our picture snapped without our knowing about it while saying good-bye. Although its a terrible shot of me, I think its funny that I was caught in a snap looking so 'enamored' with this man. It just goes to show that a picture is not always what it appears to be. Anyone seeing this picture would think that this was my fiance eh??? Funny that one of the most romantic looking pictures I have in my possession is one of me and my brother-in-law to be. Go figure! Besides, I'm not going to apologise for taking the opportunity to hug a hottie. I'm still ME after all, I haven't changed that much!




Just for the record, here is one of me and my husband-to-be...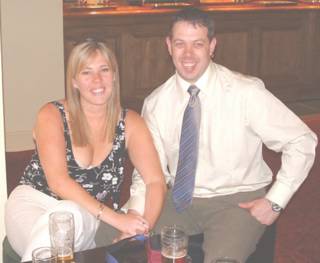 Me and Andy at our 'engagement' party.

Nottingham City

Speaking of Ali and Scott, I leave on the morning train for a two day visit with them in Nottingham. I'm really looking forward to this time with Alison. We have plans to meet Scott for lunch tomorrow upon my arrival, and while Scott goes back to work, Ali and I plan to chat over a few glasses of wine before we go shopping. Tomorrow night they want to take me out on the town, and then Wednesday Ali and I will do the sight-seeing thing before I catch the 4 o'clock train back to Grimsby where Andy and the boys will be pick me up. At the moment, life is good.