A Busy Week
I arrived back in the UK at 4:30 a.m. on Saturday. It only took five hours and was quite uneventful. Andy of course, was there waiting for me at Glasgow Airport. He too had been up all night as it was a five hour trip up to get me.
We hung around the airport for about half an hour while Andy got a bit of rest and then off we went into the highlands of Scotland. We visited a town called Oban first. It was beautiful and historic and very, very Scottish. We ended up climbing the local mountain to the town's historic ruin - it was a good one to start off with, and besides, it was only about 8:30 in the morning. Funnily enough, we were halfway up the stairs when we heard laughter and believe this, smelt beer. Yup - right at the top in typical Scottish fashion were a bunch of young men drinking lager. I would assume they were still out from the night before, but I could be wrong.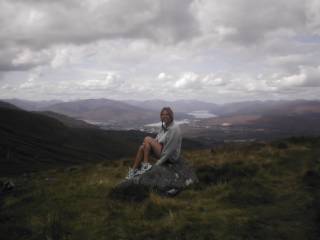 Halfway Up Ben Nevis

Around noon the jet lag hit me and I just couldn't keep my eyes open. Andy pulled over to a lay-by in the road so we could get some rest. (Unfortunately check-in at our B&B wasn't until 2:00. When we finally did check in we spent most of the afternoon in bed. We got up around 6:30 and went in hunt of a nice fish dinner at the restaurant we had spotted in town, however they were full up. We ended up back at the Inn where I ended up ordering Sea Bass. It was scrumptious, however I couldn't eat it until I had covered its face up with lettuce. Next time I see 'Whole' on the menu board I'll know what that means!!!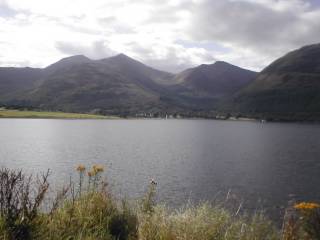 Isn't it breathtaking?

The next day found us traveling even higher into the mountains. We stopped at Ben Nevis (the highest peak in the UK) and took a cable car half way up and then proceeded to walk to the next peak where there happened to be a couple of bagpipers -how fantastic!!!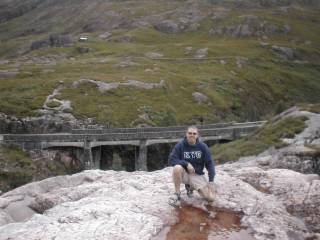 A little hike around Glen Coe

Of course once we came down off the mountain we went even higher, up to Glen Coe, as I needed to see this place that is so well known for the Clan MacDonald Massacre (remember my blog back in June???). It was absolutely my favorite place during the trip. We didn't stay too long, just hiked around some of the lower peaks to take a few pictures - we are definitely going back there for some proper hiking.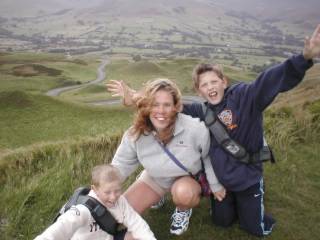 A break at the top....

So, Monday morning we ended up picking up the boys with no problems and we've been having a fantastic week. We don't bring them back until Wednesday evening at four. We spent all Monday evening and most of Tuesday out on our bikes (what a workout!) and then took off for Nottingham early Wednesday morning to pick up Andy's sister Alison before hitting the UK's Theme Park, Alton Towers. It was a good day out despite the fact that it rained the whole day. Some of the rides there are pretty exciting, however I only got to go on two really crazy ones as A) noone wanted to go on the ones that took you upside down, and b) the line ups were horrible! We waited over an hour to ride on one that is very similar to Top Gun in Toronto!!! I guess I'll have to wait until Stacy's around for the scarier rides!
The next day we headed off to the Peak District with the boys and ended up doing a three hour hike through, get this - even more mountains! Let me say, we were well and ready to get some serious sleep on Thursday nite!
On Friday I ended up taking it easy and just catching up on some housework. Tonite the boys' cousin, Jake, will be joining us for a movie in Lincoln and staying with us for the next two nights. I believe I have another couple of busy days in store!
Oh - we just bought our brand new BBQ today! Guess what we are having for supper tonight???