Quote of the Day:
Christmas ... is not an eternal event at all, but a piece of one's home that one carries in one's heart.
--Freya Stark
Song of the Day
Baby Please Come Home (for Christmas) -
- U2
Sometimes I do my own head in....
Tonight I was on the phone with Andy. We were just talking about the usual stuff, when he mentions he will be decorating the flat with the children on the weekend. I was a little thrown off, as I was hoping to partake in this when I got there and I didn't react very well. I was already slightly annoyed from his making a joke of almost everything and I know I sounded a bit silly. It didn't help matters that my mom was throwing in comments here and there, mainly siding with him. To make a long story shorter, I ended up apologizing to Andy. I however told him its tough for me, and probably only going to be a bit tougher in the near future, as I have never, ever been with him and his children together. Its going to be an adjustment, and of course they must decorate this weekend. I had just been so looking forward to 'helping' to decorate my own place. Once the conversation ended, I had words with my mom, which again made me feel even more horrible and guilty. She does throw in comments when I talk to Andy and mostly they side with him. What she doesn't understand, is that she's only hearing one side. However once I saw how hurt she looked, it broke my heart and once I again, I started to cry. I apologized and we moved on and talked about the stress of the upcoming holiday. She said if she were me, she'd be going too. She mentioned how its probably hard for my sisters to not be home for Christmas, but I told her I think its different for them... Tawny IS home for Christmas, as is Sandra. Also what's different for them is that even thought they are both with their boyfriends, they also know the people (friends, family) they will be with very, very well, as they have already spent a year/years there. Its going to be different for me. Also, in response to Mom saying that they had to make a choice to move too, I replied 'well they didn't leave just before Christmas'. I am however not bitching about leaving before Christmas . I'm ok with it... I'm just being silly again. Sorry to sound like I'm in the pity pool again. I feel good now, I really do and I'm so looking forward to being with Andy (and his children and family) for the Holidays - they are making me feel very welcome.
I've finally put a dent in it...
Today I put a little dent in my shopping. I'm a little worried about the gifts I got for Gavin and Hannah, as they are a bit 'difficult', however with their artistic talents, and the help of their mom, I know they will have fun with these, as will Roisin I'm sure, which is good, considering I don't think I will be able to afford to buy for her as well as the kids. This year, as I'm not working, I'm not able to buy alot. This will be the same for any of my friends with kids... , or at least that's what I think now, lol. I love buying Christmas presents. I'm rather excited as I will have it all done well ahead of Christmas this year... not much choice there!
Movies, Movies, Movies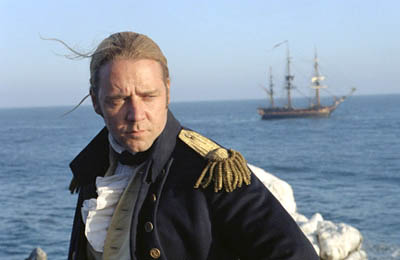 So... last night Stacy and I took in Master and Commander. I liked it, it was not what I expected, but it was certainly interesting enough. There was a beautiful blonde young man in it who unfortunately dies rather early on, but other than that, it didn't disappoint, lol. I would like to know who the actor was. Stacy and I have seen just about every movie in the theatres at the moment. Can't blame us though, we are running out of time, lol. Tomorrow night I believe we are off to see The Missing. That one has even reeled mom in, who will likely be going too. I like those nights. After that? We are looking forward to Timeline, Bad Santa (the one my mom is patiently awaiting, lol), The Last Samurai, etc. Can't wait. My friend Glen was a little bit disappointed I won't be here to see Lord of the Rings with him, but he's ok now I agreed to see Tom Cruise flick with him. Besides, I can't be sorry about seeing Lord with Andy in ENGLAND. I think Stacy is a bit disappointed about that as well, but I know Dawn will be there with her for that one. Right Dawn???