Quote of the Day:
He's the Devil he IS....
-- My Mom, watching The Missing
Song of the Day:
She'll Be Coming Around the Mountain
-- Barney & Friends
THE MISSING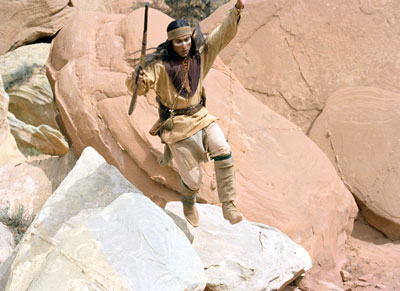 Tonight, Stacy, Mom and I went to see the Missing. I personally found it to be excellent, with a very strong cast, and not just because it has this newly found HOTTIE in it.... however, I took one look at the 'Indian' - "Kayitah" and instantly fell in love... I have since discovered he is Jay Tavare... an Native American Actor who is slowly making his way into the movie scene. I was looking forward to seeing Cold Mountain before today, but I will be definitely seeing it now, as he is in the movie. I was really surprised to see the actress Sarah Polley, who I newly discovered from her movie, 'My Life Without Me'. Her role wasn't big in this movie, nor was Jay's, however they both played interesting roles. Val Kilmer has a cameo in it too, which immediately scores points with me.
Jay Tavare
I normally am not attracted to men with long hair, but goddamn, can you not blame me for this one??? I have since seen pictures of this man with short hair, and although he still looks good, the native look is just perfect for him. I suppose its natural, considering he IS Native American. How do you like him girls??? Or is it just me????